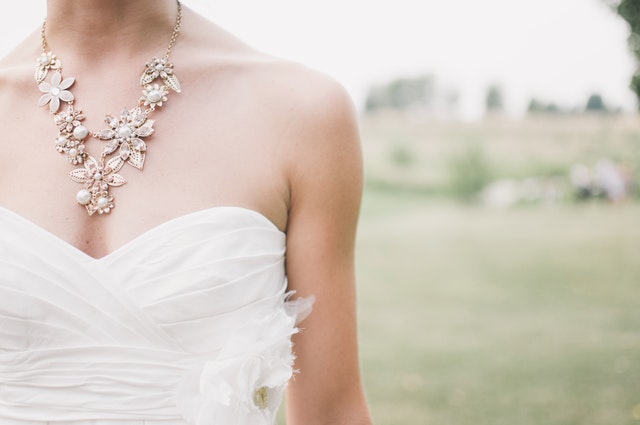 3 Different Ways To Style A Statement Necklace
A statement necklace is one of the most diverse accessories you can have in your wardrobe. It can add texture, colour and detail to any outfit, as well as creating shape and drawing attention to or away from particular areas. If you don't feel very confident when it comes to accessorising, especially with large statement necklaces, then we are here to help! 
Here are 3 different ways to style a statement necklace to make you look amazing and feel even better. 
With A Strapless Dress or Top
Strapless dresses or tops are beautiful pieces that are very flattering. When you have straps or a halter neck on a dress or top, attention is drawn to the shoulders which can actually make them appear wider than they are. So, strapless styles are great for people with slightly wider shoulders. When this is combined with a statement necklace, the eye is drawn inwards which helps to highlight this appearance of slimmer shoulders even more. 
Whether you have a straight or sweetheart neckline on your strapless piece, a large statement necklace will look amazing. If you are new to statement accessories, choose a plain coloured top and then use the statement necklace to add dimension to the outfit. Style with a clutch bag and a statement sapphire or emerald ring to finish the look. 
With A V Cut T-Shirt and Leather Jacket
For an edgy biker look, you can't go wrong with a loose fitting white v neck t-shirt, a black leather jacket, black jeans and a bright statement necklace to bring an element of glamour. You really can't go wrong with this outfit as you'll look effortlessly stylish every time. 
You could either go for cool colours, like a silver necklace with light blue features, or something bolder with multiple different colours. Maybe even a bright coral colour with matching lipstick! Much like the strapless dress or top, when you opt for something more plain, you can be more adventurous with your accessories. 
Over A Cable Knit To Add Texture
For a more comfy, casual, everyday look, layering a statement necklace over your cable knit jumper. During the winter, wearing t-shirts or thinner long sleeve tops isn't very practical, but we don't want to wear boring jumpers all the time. So, adding a statement necklace completely changes the look of more neutral pieces of clothing. 
If you like the layered look, you could start with a collared shirt, then layer a jumper before finishing the look with a statement necklace. You can experiment with different colours and patterns, or go more simple and let the necklace do the talking. 
Jumpers sometimes don't give us much shape, so adding the statement necklace will help to add an element of femininity. You'd be surprised at how a necklace can transform the appearance of many different clothes in your wardrobe, and cable knit jumpers are certainly one of them. 
Final Thoughts
Statement necklaces are fantastic to have in your wardrobe, as they can completely transform an outfit and make you feel amazing. Choose necklaces that you love and you can add a personal touch to everything in your wardrobe. Most importantly, have fun with it and take risks!