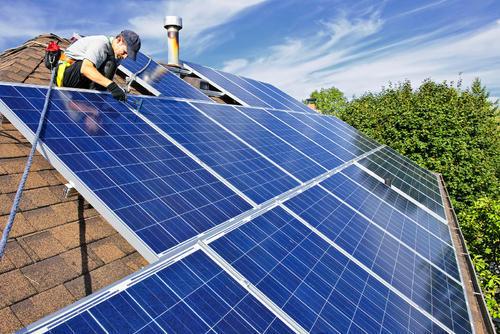 Why To Choose Cygnus Energy For Residential Solar System?
RESIDENTIAL SOLAR SYSTEM
Residential Solar System convert the Sun's energy into electricity. To convert photons into electricity solar panels use photovoltaic cells. These cells are arranged on the surface of the panel in a grid-like pattern to create watts of electricity. For producing energies in Kw multiple panels are arranged in an order and installed in a field or on a roof. For residential uses 5KW, 6.6 KW, and 10 KW solar systems are ideal. Additionally, if you want to know more about the required solar system for your home you can contact us.
GREAT RETURN ON INVESTMENT
It is an ideal deal and a great investment if you are going with residential solar panels. Installing residential solar panels at home not only saves your money but also increase the property value. Along with providing electricity to the home these electricity generation systems also help in protecting the environment.
PLACE TO APPROACH FOR SOLAR PANEL INSTALLATION MELBOURNE
SAVINGS ON ENERGY BILLS
When we talk about hefty electricity bills, then solar panel performs very well. By installing solar panels at your home you can easily save money over the years. If your solar system generates more than your power consumption then you can supply it to the grid company, by doing this in some time you can easily get your initial investment back.\
ENVIRONMENT-FRIENDLY SOLAR SYSTEM
Generating clean energy is interesting and environment-friendly. Traditional energy is generated through coal, and thermal. And all these power-generating systems harm the environment in different ways. But, Solar Panel System Melbourne creates energy from the Sun's heat energy so, these systems are very environment-friendly as well as reduces your Co2 footprint in the procedure.
WHY CYGNUS ENERGY FOR YOUR SOLAR SYSTEM?
There are lots of reasons for choosing Cygnus energy for your solar power needs are as follows:
An effective solar panel installation service for residential or commercial power needs.
Years of experience and expertise in solar panel installation.
We provide clean energy at your home and office.
High reputed and the most trusted solar power installation service.
We help you reduce your carbon footprint.
FEEL FREE TO CONTACT US
25 years solar panels warranty*
25 years solar panel's linear performance warranty*
5 + 5 years inverter warranty*
Cygnus Energy is CEC Approved retailer
CEC Accredited and license solar installer
Closure Thoughts
Understanding the various aspects that go into a project like this is crucial. At Cygnus Energy, we focus on delivering relevant information about Residential Solar System to our clients. So they may select the best solar energy package for them. We've made it our job to give our clients the appropriate, up-to-date information they want, as well as the professional support and service they desire. The cost is not so high as it can fit everyone even we also have low-budget services.