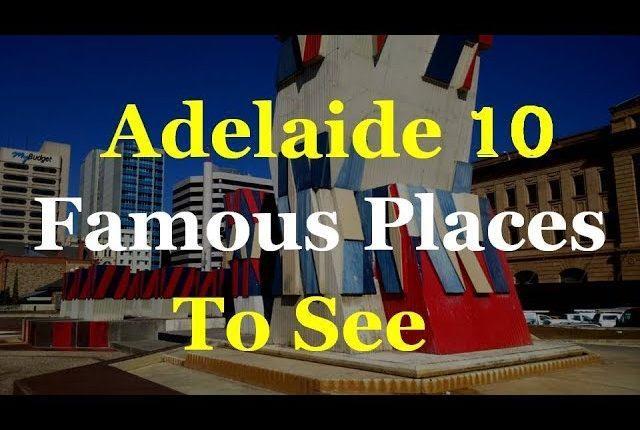 10 Beautiful Tourist Spot You Must Visit In Adelaide
Adelaide is a cosmopolitan capital located between the southern coastal line of Australia and Mount Lofty Range. Immigrants from Europe founded this tidy destination and develop the city around River Torrens. Now this place has become a favorite spot for tourists due to its rich artistic culture, outdoor lifestyle, wine, and many more. Nevertheless, the abundance of natural vegetation around Adelaide makes it a preferred location for nature-loving tourists. Discover the top 10 destinations in this vibrant city, you must surely visit during your tour.
 Museum
Migration Museum: The world's first migration museum opened in the year 1986. Here you can know about the cultural heritage, migration experience and lot more regarding migrants.
South Australia Museum: This museum is five storey building with many wonders to explore! This is one of the oldest museums in Australia where the natural vegetation and cultural heritage of Aussies can be understood. 
National Park & Garden
Mt. Lofty Botanic Garden:  This crescent-shaped botanic garden which widespread around 97 hectares is located on the eastern slope of Lofty hills. It is a cooler wetter location for plants that are had to grow on plains.
Belair National Park:  It is located around 25km far from the city, making it an ideal spot for outdoor activities. Here you can find lakes, mountain trails along with cricket pitches and tennis courts for hire. This place is one of the oldest national parks in Adelaide with the relatively undisturbed area of native vegetation. 
Beaches
Seacliff Beach: It is a coastal suburb located adjacent to South Brighton Seacliff Park. Here you can enjoy water-based activities such as swimming, surfing, and many more.
Grange Beach: This beach is well-known among tourists for its tranquility and sunset. The historic Grange hotel is located near this beach.
Shopping
Rundle Mall: Returning back from Adeliade without visiting Rundle Mall is not a good idea! It is the most visited shopping destination by tourist people. Here you can explore the best range of brands making it a premier shopping location.
Adelaide Central Market: One of the largest fresh markets not only in Australia but in the entire southern hemisphere is Adelaide central market. You can explore all kinds of fresh foods from fruits, vegetables, meat, poultry to bakeries and so on. 
Other Destination
Adelaide Zoo: It is Australia's oldest zoo and home to around 2500 species. Here you can also find different types of native flora, making it a botanical garden.
St. Peter's Cathedral: An Anglican cathedral located around 1acre of land at the corner of Pennington Terrace. It is one of the oldest active churches in Australia founded in the year 1869. 
Closing Lines
The above-mentioned are the top 10 destinations you are worth visiting during the Adelaide tour. So, book your tickets and flight to Adelaide for enjoying your holidays.