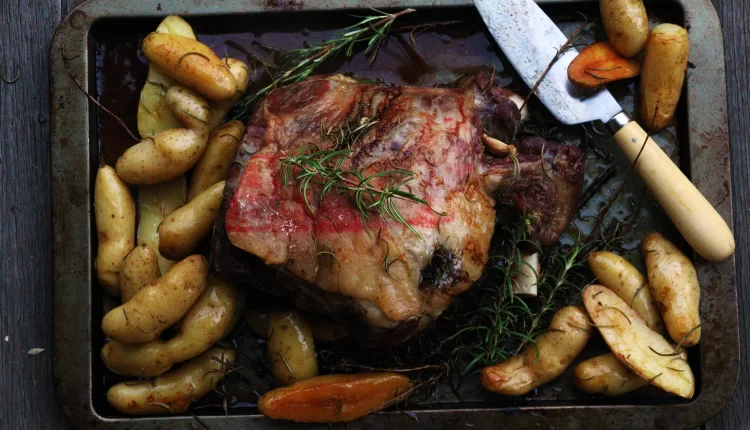 Recipe For Melbourne's Roasted Leg Of Lamb
Australia is tagged as one of the world's best tourist spots due to varied factors. The list extends from beaches, national parks, unique animal species to distinctive food to taste. One of the best cultural hodgepodge dishes that made Australia a right destination to eat is a Roasted leg of lamb. Nothing makes the Aussies happier than a Sunday with a lamb roast. As the country is abundant with sheep and known for sheep-rearing, the price of lambs is not much costly. This Mediterranean-influenced dish is delicious and doesn't require much effort to cook it. Even a fresh cooker does not fail in preparing this dish. Given below content will tell you about the recipe for cooking a roasted leg of lamb. 
Required Ingredients
You don't require to hunt too much for finding ingredients. All you need is a simple additive for preparing a roasted leg of lamb. Given below are the required items
Garlic- 4 cloves of minced garlic
Olive Oil- 1 tablespoon
Fresh Herbs- Chopped fresh rosemary and thyme leaves
Dijon- 1 tablespoon mustard
Salt & Pepper- 1 tablespoon kosher salt, 2 teaspoons of pepper
Shank- trimmed bone-in leg of lamb
Marinade 
Timing For Cooking 
Generally, the preparation ahead of cooking is around 20 minutes and for cooking the roasted leg of lamb is nearly 2 hours. Totally 2hrs 20 mins is needed for preparing it. 
Steps To Be Followed
Given below are the simple 8 steps you need to do for tasting a delicious roasted leg of lamb. Do follow it and enjoy your Sunday with roasted lamb.
Preheat your oven over 350 degrees and keep a roasting pan along with aluminum foil.
Gently touch the dry lamp with paper towels. Using a sharp knife make a shallow cut all over at the top.
Take a small bowl and mix on garlic and olive oil. In addition, add rosemary thyme and dijon mustard, salt, and pepper
Place the marinated lamb with fat side up in a roasting pan. Gently add garlic paste to the lamb and rub thoroughly into the cuts.
After it, place this lamb into the oven and roast till it gets an internal temperature of 135 degrees.
Roast for about nearly one and half hours or as you desire. (Generally roasting time is between 1 hour 30 minutes to 1hour 45 minutes)
Do not touch it for nearly 15 minutes after taking it out. Make your slice only after the mentioned timing.
Serve to the plate as soon as possible once it is sliced.
Number Of Plate Served
Generally, a whole leg of lamb weighs around 2.75 kilograms which are well enough to serve 9 to 12 people. If you are inviting more guests do calculate and prepare the roasted lamb accordingly
Closing Lines
Above-given is the recipe for making a roasted leg of lamb. Be it for a family get-together or for easter or for any occasion, try cooking this dish and win everyone's heart.